The Best Way to Get Reviews
At the risk of sounding trite, the best place to start when you need to get reviews is to ask for them. Sometimes it feels like you're pushing your nerve when approaching a customer, however, it may help to remember that:
Most people (76%, according to BrightLocal) are willing to leave reviews when asked.
93% of consumers find reviews helpful for themselves.
Google searches for keywords "best" and "reviews" have dramatically increased from prior years.
So, how should you ask? There are many different ways to bring up the subject, some more overt than others, but all of them are equally effective.
When to Ask for Reviews
This first tip might get your heart pounding, considering you actually have to talk to a customer, but it doesn't have to be complicated. You have very natural opportunities to ask for a review from your customers when:
They praise your product or service
You ask them if they found everything they needed or any other question about their experience with your services
They've called in and you've resolved a problem quickly and effectively
How to Add a Feedback Page to Your Website
In setting up your website, you can design a simple page purely to direct your customer's reviews and feedback where you want it to go. This type of page allows you to mediate your customer's comments as well. Any negative feedback can be directly sent to the owner's email rather than onto a public forum. This gives you the prime opportunity to salvage your customer's opinions by reaching out and addressing their concerns immediately.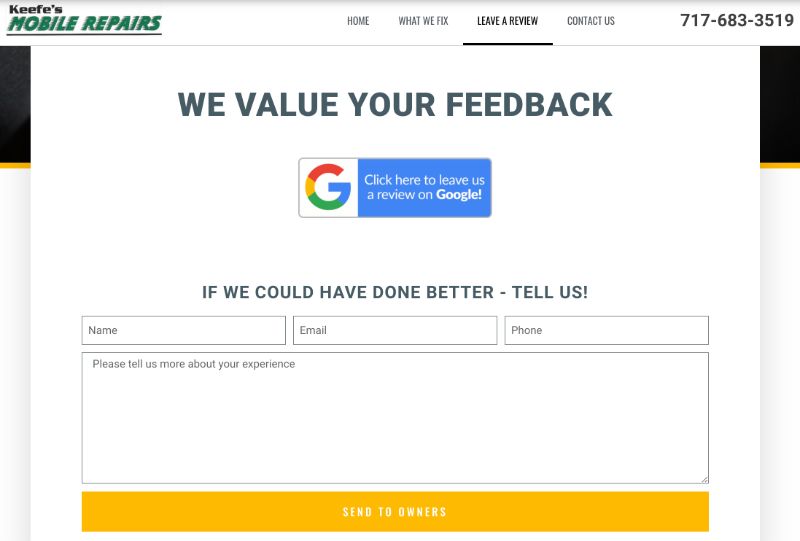 Using Your Business Card and other Handouts
This is a rather simple concept and very easy to implement with a tool like Canva. You could design a business card with your contact information on one side with the other side reserved to promote leaving their feedback and sharing their opinions on your website (this would be the feedback page you created). Or if you've got a physical survey where they can circle their rating, make sure you have a box prominently displayed into which they can drop it… and make sure you follow up to thank them or address the issue they shared.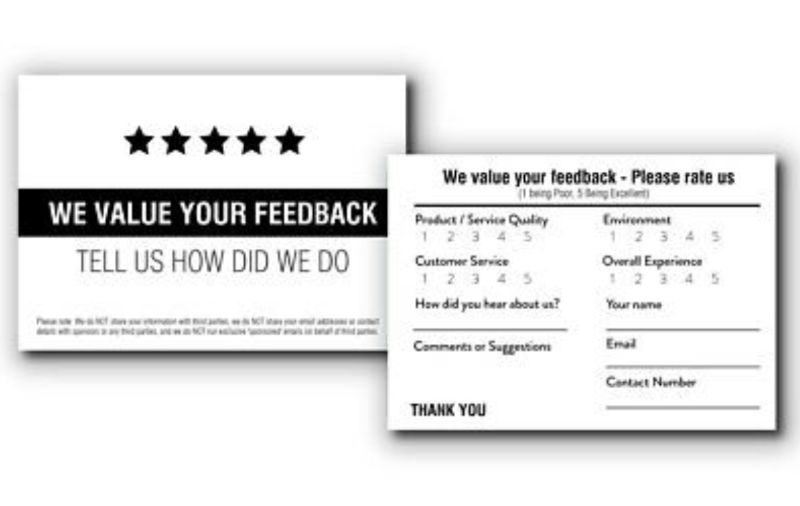 What to Include in Your Thank-you Email
Using some of the marketing tools available out there, like MailChimp, will make this method painless. Sending an email thanking your customers for their business will certainly an impression. Naturally, within the email, it is more than appropriate to ask how they felt you did and encourage them to click the link to share that feedback.
Expert tip: specify what service or product they got from you… they will likely use that same language when leaving their review which helps Google rank you for your services.
What Not to Do
No reason to belabor the negatives, so we'll jump right in. Do not:
Offer gifts or discounts in exchange for reviews.
First of all, this is against certain review platforms' terms and conditions, but, secondly, it cheapens the value of the reviews you receive. The purpose of reviews is to give prospective customers reputable information regarding their choices of where to go.
Mark this down as the worst way to get reviews. A review platform's purpose is to collect honest and accurate feedback from actual customers, informing and persuading others of the value of your product/service. Not only will this get your reviews deleted, but it could also lead to fines from consumer protection agencies.
This only refers to the asking portion, not the response to negative feedback (learn more about responding to negative reviews). As mentioned above, most people are very willing to leave feedback because they enjoy being heard. You are giving people a voice, and that empowerment will give others the confidence to try out your business.
Not responding to someone's experience is like not sending a thank-you card when you've received a gift. It isn't polite. When it comes to positive feedback, they may not expect a response, but it's nice to get acknowledgment anyway. It's much more egregious (shockingly bad, in other words) to forget to respond to negative feedback (see our shortlist of tools for managing your online reputation), and that is where your reputation could be seriously damaged.
A quick summary of tips for ways to get reviews:
Reviews aren't selfish; they empower your customers to help other consumers make smart and confident decisions.
Be genuine, and don't force it.
Make it as effortless as possible for your customers to leave feedback.
Remember that customers are willing to leave reviews.
Respond to reviews, both good and bad!